Would you like to take a step back in time and trace your ancestors with the expertise of our team of professional genealogists?

Researching the history of your family provide numerous details of your unique ancestry and cultural heritage.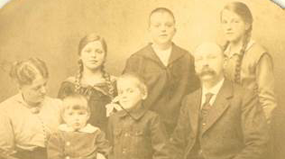 We know from experience that your particular family history will be an invaluable and treasured gift you can pass on to your children and children`s children.
Our skilled team of more than 100 genealogists have years of experience in and an extensive knowledge in European and especially Scandinavian genealogy and we are ready to help you
track your ancestors and your family history in all of Europe, inclusive Russia, Belarus and Ukraine.
We perform thorough quality control of all research files and have a large number of documented assignments behind us – for people – in Europe as well as abroad.
We're experts in tracing the roots of immigrants from all of Europe!
If you have any questions, please contact us info@slaegtenshistorie.dk
or telephone (0045) 61 12 50 10